bewegt   beflügelt   bewahrt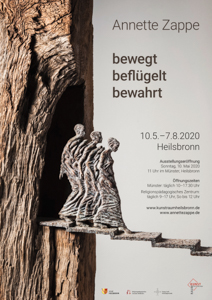 5. June 2020 to foreseeable 13. September 2020

KunstRaumHeilsbronn
Exhibition in the Cathedral and in the RPZ Heilsbronn
Abteigasse 7 | 91560 Heilsbronn
The delayed exhibition is opened at 5. June 2020. One part of the exhibition is shown in the Cathedral of Heilsbronn, the other part can be seen in the RPZ.
Opening hours:
Cathedral: Daily 10 am to 5:30 pm
RPZ Heilsbronn: Monday to Friday 9 am to 4 pm and according to agreement
The usual hygiene and distancing rules apply to the visit.
More dates can be arranged only short-dated. So please look at this side for current news.