LEERE & FÃœLLE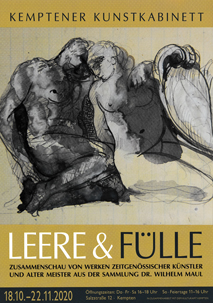 25. March to 25. April 2021 – reopened!
Works of contemporary artists connected with Old Masters of the Collection of Dr. Wilhelm Maul
Kemptener Kunstkabinett
Salzstraße 12  |  87435 Kempten |  T. 0831 28381
www.kemptener-kunstkabinett.de
Opening hours: Thursday, Friday, Saturday 4 – 6 pm
Sunday, bank holiday 2 – 6 pm and due to agreement.
The usual hygiene and distancing rules apply to your visit.
Currently the exhibition ist closed because of an  incidence above 100.